"The Flag and the Cross: White Christian Nationalism and the Threat to American Democracy"
Add to Google
This hybrid event will be presented in-person at Social Science Matrix (820 Social Sciences Building) and streamed online via Zoom. Registrants will receive a Zoom link prior to the event. Register here.
Philip S. Gorski, Frederick and Laura Goff Professor of Sociology and Religious Studies at Yale University
Please register to join us on March 23 at 4pm for an event featuring Phil Gorski, Frederick and Laura Goff Professor of Sociology and Religious Studies at Yale University, discussing his new book (co-authored with Samuel Perry), The Flag and the Cross: White Christian Nationalism and the Threat to Democracy. The respondent will be David Hollinger, Preston Hotchkis Professor Emeritus of History at UC Berkeley. Carolyn Chen, Professor of Ethnic Studies at UC Berkeley, will moderate.
About the Speaker
Philip S. Gorski, Frederick and Laura Goff Professor of Sociology and Religious Studies at Yale University, is a comparative-historical sociologist with strong interests in theory and methods and in modern and early modern Europe. His empirical work focuses on topics such as state-formation, nationalism, revolution, economic development and secularization with particular attention to the interaction of religion and politics. His other current interests include the philosophy and methodology of the social sciences and the nature and role of rationality in social life. Among his recent publications are The Disciplinary Revolution: Calvinism and the Growth of State Power in Early Modern Europe (Chicago, 2003); Max Weber's Economy and Society: A Critical Companion (Stanford, 2004); and "The Poverty of Deductivism: A Constructive Realist Model of Sociological Explanation," Sociological Methodology, 2004. Gorski is Co-Director (with Julia Adams) of Yale's Center for Comparative Research (CCR), and co-runs the Religion and Politics Colloquium at the Yale MacMillan Center.
About the Book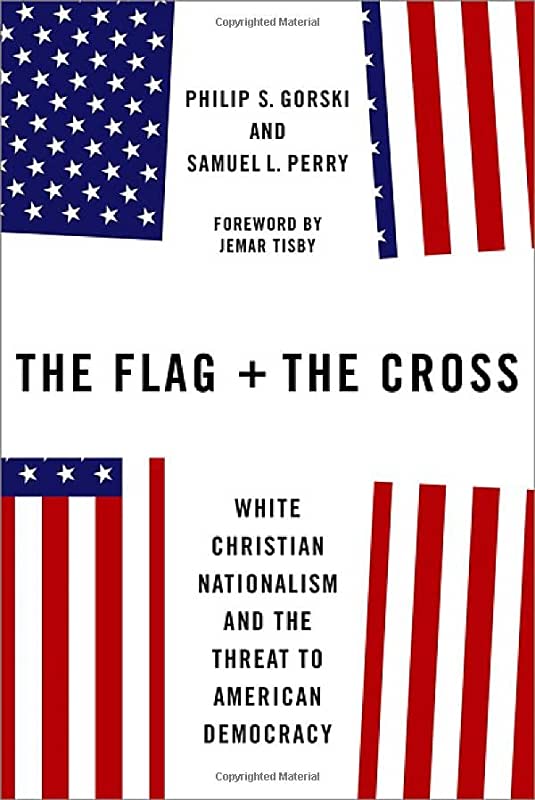 Most Americans were shocked by the violence they witnessed at the nation's Capital on January 6th, 2021. And many were bewildered by the images displayed by the insurrectionists: a wooden cross and wooden gallows; "Jesus saves" and "Don't Tread on Me;" Christian flags and Confederate Flags; even a prayer in Jesus' name after storming the Senate chamber. Where some saw a confusing jumble, Philip S. Gorski and Samuel L. Perry saw a familiar ideology: white Christian nationalism.
In this short primer, Gorski and Perry explain what white Christian nationalism is and is not; when it first emerged and how it has changed; where it's headed and why it threatens democracy. Tracing the development of this ideology over the course of three centuries—and especially its influence over the last three decades—they show how, throughout American history, white Christian nationalism has animated the oppression, exclusion, and even extermination of minority groups while securing privilege for white Protestants. It enables white Christian Americans to demand "sacrifice" from others in the name of religion and nation, while defending their "rights" in the names of "liberty" and "property."
White Christian nationalism motivates the anti-democratic, authoritarian, and violent impulses on display in our current political moment. The future of American democracy, Gorski and Perry argue, will depend on whether a broad spectrum of Americans—stretching from democratic socialists to classical liberals—can unite in a popular front to combat the threat to liberal democracy posed by white Christian nationalism.
Presented by the The Berkeley Center for the Study of Religion with generous support from the Henry Luce Foundation and cosponsored by the Social Science Matrix, the Department of Sociology, and the Berkeley Center for Right-Wing Studies.
---
Venue information
Social Science Matrix is located on the UC Berkeley campus in 820 Social Sciences Building (near the corner of Telegraph Avenue and Barrow Lane). They are most easily reached via the east entrance of the building.
Take the elevator on your right ("Elevator 2"), which goes directly to the 8th floor. There is a special call button on the first floor to call the elevator for the 8th floor. When you get out of the elevator, turn left and then left again down the long corridor into their office.